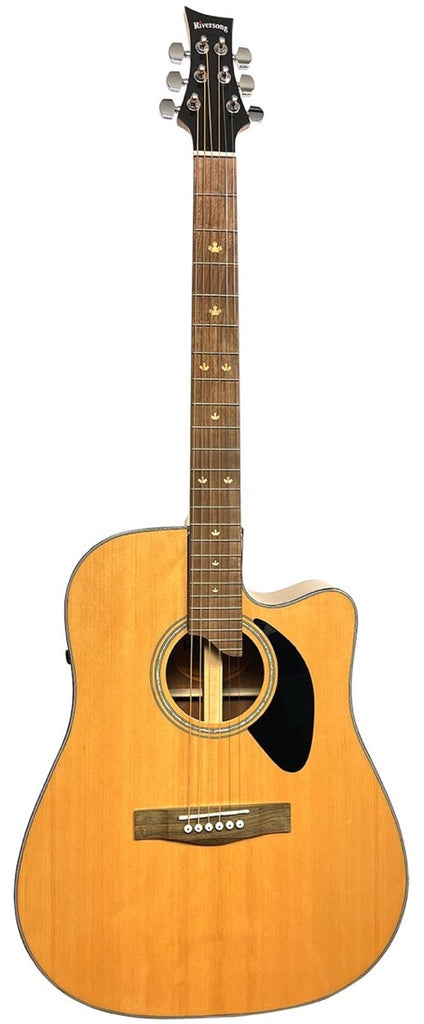 The Dragon Slayer Acoustic Electric Guitar P551CE-D
Introducing the New 2021 Dragon Slayer Acoustic Electric Pacific Series P551CE-D
Why the Dragon Slayer? If you're about to go into battle, you want a trusty weapon at your side.... This guitar is it, featuring Riversong's patented adjustable "Neck-thru" neck system which offers a fast and precise adjustment for action and intonation.  Along with the new hybrid top, back and sides that sound like a solid top, but have the strength and humidity benefits of a multi ply top guitar. 

This guitar's traditional look might make it seem unassuming on first glance but a closer examination reveals a fast comfortable neck profile, 2 octave fretboard, dual carbon fibre rods - everything you didn't know you needed in a guitar is here in a beautiful package.
Neck-thru Construction - The Patented Riversong Neck System
Riversong's patented Neck-thru technology offers many benefits including strength, intonation, less bracing, easier playing due to the ability to make precise adjustments, variable top loading, an even balanced sustain tone, and volume up and down the neck (yes even on the body), eliminating the need of an expensive neck reset, slinky easy string tension, reduced heel, and the integrated strap pins are part of the structure of the guitar.
Riversong's unique patented Neck-thru design also has a truss rod that runs the full length of the neck. Most traditional guitars have a truss rod that ends at the 14th fret and continuing with an elongated screw head. Riversong necks have a full-length truss rod that adjusts the entire length closer to how an electric guitar is constructed. 
The patented neck system has a small amount of flex (like a Strat) and this allows regular gauge strings to feel a lot less stiff further enforcing the electric-like feel.
Riversong's Active Body System
Riversong's innovation is the active body system. It works by moving the neck all the way through the body allowing two things happen:
The structure shifts from neck joint to the end block
The mass of the neck is now equal in and out of the guitar and it is free to vibrate like a tuning fork helping to ring up and down the neck and throughout the body. With the structure coming from the back of the guitar, the body and the neck has a little bit of flex (like a Strat vs a Les Paul) this flex gives the body the ability to freely vibrate and give the strings a really slinky feel (low tension)
Specs
| | |
| --- | --- |
| Upper Shoulder | 11-3/4" |
| Waist | 11-1/8" |
| Lower Bout | 15-3/4" |
| Body Length | 19-7/8" |
| Overall Length | 40-3/4" |
| Body Depth End Block | 4-3/4" |
| Body Depth Neck Block | 4" |
| Scale Length | 25.5' |
| FB Radius | 16" |
| Nut Width | 1-5/8" |
| String Spacing at Bridge | 53mm |
| Neck Shape | Fast C |
| Neck Depth at 1st Fret | 19mm |
| Number of Frets | 24 (2 octave) |
| Carbon Fibre Rods | x2 |
| Pickup | Fishman Flex 2 button |
| Special Feature | Engineered Top |
| Armrest Bevel | N/A |
| Rib Bevel | N/A |
| Top | Sitka Spruce w/Basswood Core |
| B&S | Mahogany w/Basswood Core |
| Neck | Canadian Rock Maple |
| Fret Board | Canadian Walnut |