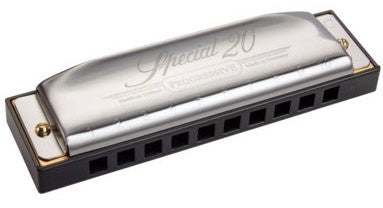 Special 20 Classic
The Special 20 has reed plates which are recessed into the injection moulded plastic comb, creating a projecting mouthpiece which offers unparalleled playing comfort. Rounded covers with closed sides give a warm, powerful tone which has made the Special 20 a favourite among rock and country players as well as blues musicians, with a rich chord sound thanks to the traditional Hohner tuning.
German craftsmanship provides superior response, bendability and tone
Precision molded plastic comb for unmatched comfort and durability
Recessed reed plates and airtight designfor consistently excellent performance
Type: Diatonic
Number of holes: 10
Reeds: 20 brass
Cover surface: Stainless steel
Reed plates: 0.9 mm brass
Reed plate surface: Brass
Mouthpiece surface: ABS
Comb: ABS, black
Length: 10 cm
Please note: All harmonicas are a final sale and cannot be returned.