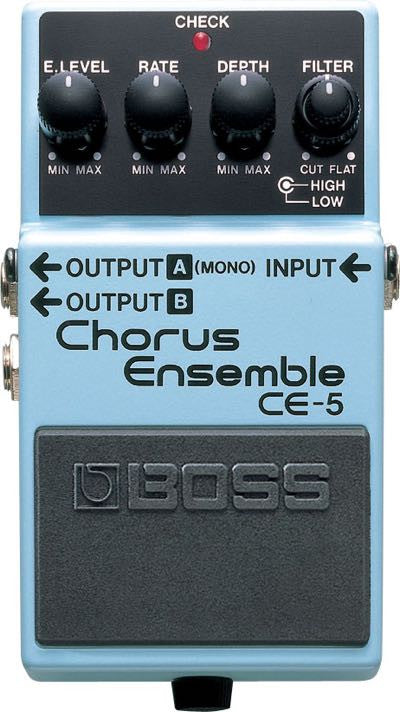 Chorus Ensemble Pedal CE-5
THE ORIGINAL CHORUS
The CE-5 Chorus Ensemble is BOSS' ultimate compact chorus pedal, covering a wide frequency range and featuring high- and low-cut filters. This lets users create any kind of chorus effect--from a mild, natural chorus to the clear and penetrating stereo chorus effect popular in contemporary music.
Ultra-high quality compact chorus pedal for guitarists and keyboardists

High- and Low-cut filters for shaping tonality of the chorus

Offers Effect Level, Rate, Depth and Filter knobs for complete control

Mono input and Stereo outputs for connection to dual amps or for studio use

Produces a range of chorusing effects, from subtle to extreme

BOSS five-year warranty
For more information on this product, please visit ca.boss.info.
Check out some of the great Roland and Boss accessories to go along with the CE-5, including: