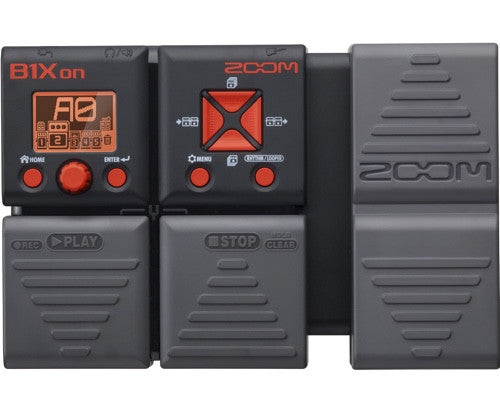 B1Xon Bass Effects Pedal
The B1Xon offers 105 bass effects, including a variety of distortion, compression, modulation, delay, reverb, and amp models, along with a number of pedal-controlled effects.

Up to 5 effects can be used simultaneously, chained together any way you like. In addition, there are 68 built-in rhythm accompaniment patterns, and you can connect headphones to the output jack (as well as portable music players to the auxiliary input jack) for silent practice sessions. An onboard chromatic tuner supports all standard bass tunings, and a Looper feature allows you to record up to 30 seconds of CD-quality audio. Loop length can be set either manually or to a preset number of quarter notes, and you can loop to any rhythm pattern, with automatic quantization that ensures seamless start and end times.

Programming is simple and straightforward thanks to a streamlined user interface and large backlit LCD screen. Advanced editing features such as Swap, Auto-Save, and Pre-Select make it easy to organize your patches for live performance and allow you to scroll through patches silently while keeping the current patch operational. In addition, the B1Xon's built-in expression pedal enables you to control input level, output level, or any selected effect parameter in real time.
100 effects, including distortion, compression, modulation, delay, and reverb, plus 5 pedal-controlled effects
Up to 5 effects can be used simultaneously, chained together in any order
Built-in expression pedal for control over input level, output level, or any selected effect parameter
100 memory locations (10 banks of 10) for the storage of user-created patches
Swap function makes patch organization a breeze
Auto Save function for automatic saving of all patch parameters
Pre Select function allows silent patch selection while keeping the current patch operational
Onboard chromatic tuner supports all standard bass tunings
Looper feature for the recording of up to 30 seconds of CD-quality audio with seamless start and end times
68 built-in rhythm patterns which can be used in conjunction with the Looper
Standard ¼" input jack accepts standard cable (both active and passive instruments supported)
⅛" auxiliary input jack for connection of personal music players
Output jack for connection to amp or headphones
Backlit LCD with contrast control for easy viewing in low-light environments
Lightweight and small enough to fit in your gig bag
Easily integrated into any existing pedalboard
Runs on 4 AA batteries, with alkaline battery life of 20 hours
USB port for power and firmware updates
Optional AC adapter
Here's what comes included with the B1Xon:
Operation manual
AA size (LR6) battery x 4